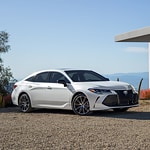 Performance, design, technology and safety are all areas in which the Toyota Avalon excels. When it comes to the Toyota Avalon's exterior features, however, which ones should Nashua automotive shoppers be aware of? Quad exhaust tips, 19" sport wheels and signature lighting are all outstanding Avalon exterior features that local Toyota lovers will appreciate.
The Toyota Avalon has quite an aggressive look, and this is enhanced by the dual exhausts and glossy black rear diffuser that are situated underneath the rear bumper. Additionally, sporty 19-inch wheels add to the Avalon's sleek appearance with their distinctive design, precision and depth.
When it comes to the exterior lighting of the Toyota Avalon, the signature LED rear taillights and front headlights are quite intricately designed. Toyota Of Nashua's Toyota enthusiasts who are seeking a more premium feel will find the sequential turn signals featured on the Touring and Limited models to be a nice touch as well.